With a nickname like "Big Sky Country" it's hard not to envision gorgeous, outdoor images of vast, open plains and tall, rugged mountains. Montana, home to such natural wonders like Glacier National Park, full of majestic peaks, rising cliffs, waterfalls, and spectacular beauty, and Yellowstone National Park, that delights visitors with incredible scenery, geysers, and lakes, truly offers outdoor adventure without any limits. Something unique lies around every corner in this amazing state and its rich history and abundance of outdoor activities will surely have your itinerary packed if you plan to visit. From fly-fishing and hiking, to horse-back riding and camping, Montana is ready and waiting for you and your family and this guide is here to help lead you through with some exceptional trip ideas that are sure to be a hit. 
There is no better way to start off on our trek through Montana than by touching on the epic adventures of Lewis and Clark. The explorers, who traveled up the Missouri and Jefferson rivers and along the Bitterroot Mountains, made some of their most significant discoveries right here in "Big Sky Country." 
Today, there is still a lot to uncover by following in Lewis and Clark's footsteps and retracing their paths through Montana will be a great start to your own "epic adventure." If you have the time to do it, this five day loop that parallels two of Montana's mighty rivers and takes you through the state's northeastern badlands and spacious plains will be a journey well worth your time. 
Take the route-less-traveled and pass through lands where dinosaurs once roamed as you visit 5 distinctly unique locations on your trek through Lewis and Clark territory. The Montana Office of Tourism has laid out an amazing route that will take you through wide open spaces, back country, and historical lands on your way to the beautiful open farmland and rolling plains of Glasgow. 
Here are some of the great locations you can visit if you follow the guide Montana Tourism has for you on their site.
Daniels County Museum and Pioneer Town in Scobey, MT
With thirty-five restored historical buildings, and an amazing museum full of antique cars, tractors, and machinery, this pioneer town will take you back to the 1900s for some old-fashioned fun with the whole family. 
Fort Union Trading Post National Historic Site
One of the most important fur trading posts on the upper Missouri, this partial reconstruction of Fort Union is a must see on the path of Lewis and Clark.
Baisch's Dinosaur Digs
Play paleontologist for the day as you excavate triceratops skulls and hunt for petrified wood, colorful rocks, and precious fossils in the Eastern Montana Badlands of Makoshika State Park. 
Fort Peck Interpretive Center and Museum
Explore the rich history of the area from dinosaurs to dam building at the Fort Peck Interpretive Center.
Fort Peck Lake and Power Plant Museum
One last landmark you can visit while tracing the footsteps of Lewis and Clark is the largest hydraulically filled earth dam in the world, Fort Peck Dam. Catch a view of the Dam and explore the recreation areas of Fort Peck Lake before driving back to Glasgow to round out your 5 day adventure. 
Be sure to check out the link at the top for a fully detailed list of activities and places to stay on the Lewis and Clark Footsteps journey. 
If you visit Montana it would be remiss if you did not take the time to check out their amazing rivers and fly fishing tours. The Missoula Guided Fly Fishing Trip offers the finest guides to navigating the vast rivers of Montana. The instructors are patient and experienced and will ensure you have a wonderful day on the water.
Missoula Guided Fly Fishing Trips 
With 3 rivers to choose and various plans to select, from full day float trips to 4 day packages that include fly fishing tours and lodging, a Missoula Fly Fishing adventure is perfect for beginners and experts who are looking to explore some of the best rivers Montana has to offer. Follow the link above for more information on pricing and what package would be best for you and your family. 
Clark Fork River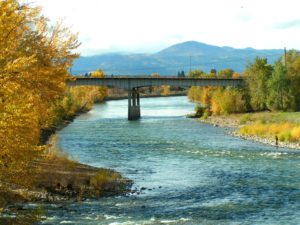 The largest river by volume in Montana, the Clark Fork River is a wildly popular location for fly fishing. The Missoula Fly Shop considers September-October to be the prime time for the Clark Fork so if you are planning a fly fishing trip to Montana there is no better time than the present. 
Bitterroot River
Known as an excellent rainbow trout stream, the Bitterroot river flows through the rapidly developing Bitterroot Valley of Southwest Montana and offers some great fishing. With the trout's urge to feed just before winter upon us, fall fishing on the Bitterroot is one of the best times of the year to do it.
Blackfoot River
With exceptional scenery, the Blackfoot River is one of the finest in Montana, chock full of history and trout, a fly fishing or floating trip here could be one of the most memorable experiences you have while visiting. Fall is another great time to fish this stream so again, now is better than never. 
For a full, extensive breakdown of these rivers and to plan a fly fishing trip that suits you visit the Missoula Guided Fly Fishing Trip link above. 
Bozeman is an absolute must visit location in Montana. There are so many amazing restaurants and shops, it's hard to narrow it down to just our favorites. For breakfast, they have two local cafes 30 minutes away in Three Forks, the two locations are the Three Forks Cafe and the Iron Horse Cafe. Back in Bozeman, I would recommend having lunch at Revelry, which requires a reservation then having dinner at Blackbird Kitchen. Also in Three Forks is the famed Sacajawea Hotel that was built in 1910 and is surrounded by shops and restaurants. The hotel is just 19 miles from the Lewis and Clark Caverns, which features one of the largest known limestone caverns in the Northwest. If you find yourself at the Sacajawea it would only be right to visit the Lewis and Clark Caverns. 
For an inside scoop into the Bozeman area and for some knowledge on two excellent hotels that are offered in the town, we spoke with hotelier, designer, and mom, Hillary Folkvord. Her work at the historic Sacajawea Hotel helped keep this amazing location on the map As well as operating the Sacajawea, Hillary runs a second location, the RSVP Hotel, which is a fun hip spot in Bozeman that offers comfortable, clean rooms for you and your family. Here is what she had to say about these locations.  The interview is below. We had the great pleasure of Experiencing this firsthand.
We stayed at the Sacajawea Hotel and let me tell you that the Hospitality is stellar designed to make you feel right at home when you arrive the Property.
There is plenty of Parking. The Hotel reminds me of a Scene of the Great Gasby.  As we walked into the Hotel lobby, the lounge area is huge and clean. The Hotel has been properly taken care and refurbished successfully. The Colors and Layout swift you right into Vacation Mode. The Details are distinct showasing the local flavor and history. 
Luxury Accomodations are availble in the Main Hotel in the Suites or you can opt for the Sacajawea Cottages.
Upon check in, You are Greeted and welcomed with a glass of Bubbly. Well don't mind if I do. The follow up to that is a Lavender Warm Towel for your face or hands. What a way to get the day's travel off you. 
The Concept is a gem located in the beautiful Three Forks. This Small Town has just what you need when getting out of the Big City. 
These Cool Tiffany Turquoise Bikes are available Complimentary for your use. This makes getting around Town easier and fun way to explore the older homes with such character.
Such spectacular history.  If you are bringing your Kids with you, Wifi is complimentary and great asset to have if you hare schooling remotely. We had a great time starting our day with homework and work and then heading out to Eat and enjoy the outdoors. In Proximity to the Hotel is the Missouri River. We were excited to make a stop there by the river and enjoy the brisk Morning.
We walked across the street to the Cottages and this can easily be your home away from home. The Cottages come fully stocked with a Kitchen, Dishes, Microwave , Fireplace, Sitting area, Couch and there is a T.V.  This Cottage sleeps 4 . We were in Cottage Number 4. If you are bringing your Furry Friends they too are welcome. We met our Neighbors before the went out to Dinner in the Hotel. They were walking Chuck. This adorable little French Terrior.
Appreciate these touches that really go a long way especially with little ones when traveling snacks mean everything.
Local Chocolate from the Area. Bozeman and surrounding towns are incredibly huge on supporting local.
This is Cottage # 4
The Ambiance is so tranquil. For this California Mama, the temps in the Morning were a little chilly but perfect with a cup of Tea. We sat out here every evening and watched the Stars.
This Bed is heavenly. We all slept so comfortably making it hard to get up. Our adreline kept us going. With some much to see and do there was no time to spend.
Chat with Mamaprenuer taking on Big Projects:
How did you get involved in RSVP and Sacagawea Hotels?
Our family has always been entrepreneurs. We grew up on a farm outside of Three Forks. The Sacajawea Hotel had gone through many different owners in the past. The last sale of the property was going to be turned into a rest home training facility. Our family believes this iconic hotel is the center point of our small town. We had zero experience in hospitality, but we love to travel. The combination of hard work and the love of great hotels was the perfect fit. We did a top to bottom renovation to bring the old gem back to life. The rest is history…
We were looking for our second boutique hotel about 5 years ago. We knew Bozeman was a hot market and we wanted part of it. The area in which the RSVP is located is the new up and coming urban street in Bozeman. The area needs a lot of love, but I predict in 5 years, it will be booming.  
What inspired you to become a Mamapreneur?
Our family had dinner each night together, my parents were entrepreneurs, and we would talk shop at the dinner table. I saw how hard my family worked and it inspired me to follow suit. I hope my kids see this as well and will help groom them to be successful adults.
How do you balance your days as a working mom?
Balance is always a funny word and I kinda threw it out of my vocabulary after having baby #2. Now I find a nice blend between home and work. My work is such a big part of my life. I've learned to ask for more help, this was hard at first but, I've learned it takes a village and my husband is a huge supporter in my dreams, which helps.
What is your favorite part about being a staple in your Community?
I love our Montana community. Yes I say Montana not just our small towns, we always joke 'Montana is America's favorite small town.' We take huge pride living in our great state, and we hope we can continue to make it a better place for generations to come.
What can people expect when they stay at RSVP and at Sacagawea?
I believe each hotel should have a signature scent, color scheme, and playlist. It's important to create a welcoming feeling for guests that they are in an extension of their home. It's all about customer experiences. Oh and each property offers complimentary Champagne at check-in so that is a perk!
Any tips for Moms who are looking to take a leap to become Business Owners?
Go for it! Launch quick then figure it out. You do not have to be perfect at whatever it is you are trying to do. You will learn so much along the way. I look back at our early years of marketing and cringe, but it's all part of the process.
What is the best advice you have received about Motherhood? 
Never be too busy to play candy land
How do you find time to unwind? 
I love to cook. My husband sits at our kitchen counter, we open a good bottle of wine, our kids play….it's my happy place.
Are you currently binge watching a show or reading a great book?
Just read Untamed…great read for parents trying to navigate this crazy world with kids. Also  rereading Stillness is the Key by Ryan Holiday. Amazing for busy moms.
Visit the links to learn more about the locations Hillary operates in Bozeman and Three Forks and if you find yourself in either of those places be sure to seek out the Sacajawea and RSVP Hotel for a memorable stay!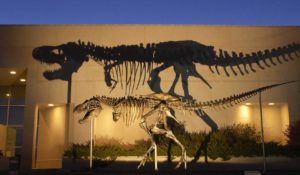 Located in Bozeman, this museum is known for its paleontological collections, and much, much more. Known as one of the world's finest research and history museums, The Museum of the Rockies displays an extensive collection of dinosaur fossils for you and your family to enjoy. If you are in Bozeman, this is a can't miss location to go along with the others we have listed above.
If you are looking to spend a day outside of Bozeman, look no further than Virginia City, Montana. Just over an hour away, this very much alive ghost town is remarkably well preserved. In Virginia City, the old west lives on and has been frozen in time to show what a Victorian gold mining town may have looked some years ago. Make the journey and enjoy a slice of history for a day at the Virginia City ghost town.
If you are staying in Bozeman, you should make it your priority to get away for one day, stay overnight in West Yellowstone, and then head out early in the morning to explore the United States first National Park. Full of unique hydrothermal and geologic wonders, plan your visit now and discover Yellowstone and the new energy that is beginning to emerge during the fall season. 
West Yellowstone
Located roughly 2 hours from Bozeman, West Yellowstone is the Montana gateway to the National Park. Full of plenty of hotel options and places to eat, this is a great place to stay if you are looking to get up early for a single day trip to Yellowstone. The Kelly Inn offers great rates and free, hot breakfast in their new dining room if you are looking for somewhere to rest your head before a big day.
Grand Canyon of the Yellowstone
To start your day drive in through the west entrance directly to the Grand Canyon of the Yellowstone, a 20 mile long canyon, formed by a river that offers breathtaking views of the various falls. Early morning is the best time to visit as it will make it much easier to avoid traffic and to drive from overlook to overlook on the North Rim.
Heyden Valley
After making your way to the South Rim of the Grand Canyon of Yellowstone, head through Heyden Valley as you move towards Old Faithful and the Upper Geyser Basin. Hayden Valley is a great place to see wildlife such as bison, elk, coyotes, foxes, and the mighty Grizzly bear. You may even be lucky enough to catch a glimpse of the majestic bald eagle if you keep your eyes peeled. 
Old Faithful & the Upper Geyser Basin
After crossing through the Heyden Valley, walk the Upper Geyser Basin, which boasts the largest concentration of geysers in the world, and check out Old Faithful, a fairly frequent and predictable geyser that is a Yellowstone tradition to watch erupt. With five of the largest geysers in the world, the Upper Basin is a necessary stop when traveling through the park.
Grand Prismatic Spring
Next up, visit the overlook and the boardwalk trails at the Grand Prismatic Spring. Although Old Faithful is more famous, these springs hold the prize for being the most photographed thermal feature in Yellowstone; this is due to their enormous size and crazy, bright colors. At approximately 370 feet in diameter, the Grand Prismatic Spring has the distinction of being the largest hot spring the park has to offer. This is the final stop and an absolute must-see as you make your way towards your final destination after a long day at Yellowstone National Park. 
Jackson, Wyoming
Roughly 3 hours from where you started in West Yellowstone, Jackson, Wyoming is the final stop on your journey through Yellowstone National Park. With a comfortable population of 10,000 people, there are countless opportunities to socialize and explore Wyoming from the safe streets of Jackson. If you are looking for a place to eat, head to Bubba's Bar-B-Que Restaurant for specialty barbeque and homemade pies at a great price.
When all is said and done, you and your family will be looking for a place to rest your head before heading back to Bozeman. The Lodge at Jackson Hole, located just minutes from the hustle and bustle of Jackson's historic Town Square, is a great place to stay that will ensure that you are well rested and well prepared for whatever the next day has in store for you. 
Another amazing state, Montana has so much sky to cover it's a wonder we could fit all our favorites into one guide. Listed above are a few different experiences that you and your family could try out if you plan to visit. Perhaps you feel like going the historical route, if that is the case then the Footsteps of Lewis and Clark experience will be perfect for you. If your family loves fishing and is dying to get one last trip in before winter, then the Missoula Guided Fly Fishing Tours could be a great place for you to start. Maybe you have a week or so to spare and hope to squeeze in as much "Big Sky Country" as you can, then visiting Bozeman and taking trips down through Yellowstone or out to Virginia City is exactly what you are looking for. Whatever your reason for visiting, I can assure you that there will be plenty of things for you to do no matter where you go.
These are my takeaways if you plan on Visiting Montana and Yellowstone.
Rent a Car, we used Avis to get around.
Dress in Layers: The weather changes
Meaning in the Morning it can be cold and then warms up to spring like tempetures. Sometimes, you may get rain.
Unplug: There is so much to see and do. Embrace it.
Bozeman: Go get into Town and Explore it , the food here is incredible. Many restuarants source local ingredients and you can really tell the difference.
Getting to Yellowstone: We took two routes heading into the Park. We drove through Ennis and the scene route was along the River.
On the way back, we drove through Big Sky.
This 64-mile round trip—called "the block" among local residents—travels through two states, over two mountain passes, and winds around three lakes. It also features gorgeous scenery and the best wildlife spotting opportunities. Depart from West Yellowstone on Hwy 191 heading north towards Bozeman, Montana. Hwy 191 straddles the western boundary of Yellowstone National Park.
Approximately nine miles north of West Yellowstone, watch for the junction with Hwy 287. Turn left (west) on Hwy 287 towards Ennis and Virginia City, Montana, which runs along Hebgen and Quake Lakes.
Turn left (south) at the junction with Hwy 87, and drive for nine miles to Raynold's Pass, which straddles the Continental Divide. At Raynold's Pass, you will enter Idaho. Continue another nine miles along Henry's Lake until the junction with Hwy 20. At the junction with Hwy 20, turn left (north) to West Yellowstone, which is about 12 miles away. This road climbs up and over Targhee Pass and then back down into Montana.
Areas to watch
Hwy 191 – Bison, moose, osprey, eagles, coyotes, and foxes can be seen near the Madison River and Cougar Creek areas.
When we were driving back , we kept a safe distance from the cars ahead as they kept breaking due to Deer that would jump out.
Be careful driving.
Ready to leave West Yellowstone and head north on Hwy 191. Continue past the junction with Hwy 287, over a large hill, and down around a steep curve and bridge over Grayling Creek. Continuing north, this stretch of road runs through 20 miles of the extreme northwestern section of Yellowstone Park (55 mph speed limit). This is truly a scenic corridor as the road parallels Grayling Creek and then the Gallatin River. Mountains rise on each side with elevations from 6,300 to 10,000 feet. Black Butte, with its steep jutting peak, is just one of the interesting geological features along the road. Sparkling creeks amid colorful willows, lowland sages and grasses, dense lodgepole pine forests, high-elevation meadows, and rugged peaks create a postcard-perfect view.
Areas to watch
Bordered to the west by the Lee Metcalf Wilderness, the Gallatin National Forest, and the Beaverhead-Deerlodge National Forest, this area is known for its wildlife. At different times through the year, you can spot bald eagles, black and grizzly bears, deer, elk, moose, otters, foxes, and coyotes.
After leaving Yellowstone Park, watch for moose, deer, and elk in the springs area to your west and then moose along the river for the next 10 miles. Elk and deer frequently travel across the highway, especially in early mornings and late afternoons, to reach the river. As you approach the 320 Ranch area, begin watching the ridges for bear and mountain lion sightings, often spotted in the spring.
When nearing the Big Sky turnoff, watch for more bighorn sheep, especially on sunnier slopes. Turn left on to Hwy 64 (Lone Peak Trail) to travel into the Big Sky area. Watch for sheep and wildlife along hillsides and near stream areas.
Allow yourself plenty of time when exploring the Park. Once you get into the Park, it takes an hour to get to Old Faithful then another hour to Hayden Valley. So, pack 2-3 days if you are staying at the park and pressed for time. This way you can do the Landmarks and Hike. Then leave a day to just hang around the Wildlife Spotting Areas.
The Rundown:
COMMUNITY HEALTH ALERT (COVID-19)
Effective July 15, Montana's Governor has issued a directive requiring face coverings in public indoor spaces and at larger outdoor gatherings in counties with four or more active cases of COVID-19.  For more information, please visit the State of Montana Newsroom.
Montana is currently in Phase 2 of reopening, therefore the Directive requiring those traveling from out of state to quarantine is no longer in effect. The Montana gates to Yellowstone National Park are now open.
Airport Information:
Flights from Southern CA to Bozeman 2 hours
Driving distance 15-16 Hours.
Ski Info:
There's a ski hill for everyone in Southwest Montana, and BZN will take you as close as we can short of landing directly on the mountaintops.
BRIDGER BOWL SKI AREA
ADDRESS
15795 Bridger Canyon Road
Bozeman, MT 59715
Bridger Bowl Ski Area is just 16 miles from Bozeman, MT and boasts 2,000 acres of groomed mountain along the north slope of the Bridger Mountains. Whether you prefer the bunny hills, challenging ridge terrain or a beverage at the lodge, this non-profit funded ski area has all the amenities of a large resort, with the charm of small-town skiing.
BIG SKY SKI RESORT
ADDRESS
1 Lone Mountain Trail
Big Sky, MT 59716
Big Sky Resort is nestled in the heart of beautiful Gallatin Canyon and home of America's largest skiing. With 30 lifts and fresh powder throughout winter, the resort offers a multitude of terrain for different skiing levels — and when the snow melts, we do it all again on mountain bikes. Our Lone Peak Mountain Tram runs year-round so you can cruise to 11,166 feet without moving yours.
Personal FAVES:
Great service and phenomenal drinks! Locally sourced and sustainable. Creative spin on traditional mixed drinks as well as new inventions. Awesome decor with Beautiful views of the Lake and Mountains.
The Food is locally sourced and the Service is TOP NOTCH.
Spacious indoor and outdoor seating.
Hiking: Lots of Trails to be Found near Town and outside of Town
Drinking Horse Mountain Trail , Moderate Hike – Family Friendly and Scenic Spots for Photos.
M trail is 4.9 Miles
Feeling more Adventures Baldy Peek Summit is a for you if you want to challenge yourself.
In Yellowstone:
One of the most incredible views in Yellowstone is along the Northeast Entrance road in the northeastern section of the park. You can literally park your car at any pull-off along the road in Lamar Valley, get out your binoculars and spend hours watching the best wildlife show in the country. Viewing Spot is fantastic.
Mount Washburn Trail
6.4 Miles Round-Trip – Moderate; Trailhead Location: North of Canyon Village on Dunraven Pass
This trail takes you to the lookout tower on the summit of Mount Washburn and is easily one of the best hikes Yellowstone has to offer. Whether you hike to the top from Chittenden Road (5.4 miles round-trip) or from Dunraven Pass Trailhead (6.4 miles round-trip), you can sit inside the lookout and take in the incredible scenery.
Trailhead Location: Canyon Area – South Rim
This is a pretty short hike, but it's also difficult. While it won't take you long to actually hike up the trail, the views that you'll see will have you in awe. The trail descends 500 feet toward the base of the Lower Falls along a metal staircase attached to the rim of the canyon. There are only a total of 328 steps that descend about 3/4 of the way down this steep-walled canyon.
One thing is for sure Montana and Yellowstone is a special and beautiful place that you are your family will cherish.