Julian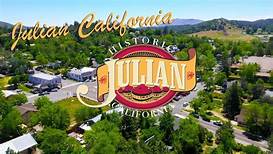 In San Diego's East County lies the charming town of Julian. With a population of around 1500, this small city could be easily overlooked if you aren't seeking it out! Surrounded by the scenic Cuyamaca Mountains, this gold rush town dates back to the 1870s, with historic buildings and shops that take you back to that time. Perfect for any season, Julian is open and waiting for you to enjoy a few days in this gorgeous mountain city!
Fall is Julian's most beautiful season by far so there is no better time to head down South to sample some apples and enjoy some pie with the family. We spoke with Robin Boland from the Julian Chamber of Commerce who provided us with some wonderful information about the city as well as some great places to visit if you choose to go. 
How Julian got its start and what to expect from a visit: 
Julian is a Gold Mining town that, once the gold was no longer profitable for those who came to prospect, proved to be a good area for agriculture. The city is now famous for its apple picking and apple pies. Here, you will find there is no shortage of places to get yourself a slice or a whole pie to take home on your visit. 
An old town is sure to have old history:
For those interested in History, you can enjoy a self-guided walk through town. Visitors can pick up a map at Town Hall and be led to historical sites, while browsing shops, dining, and enjoying the fresh mountain air. To add a bit of fun and challenge, you can also pick up history hunt cards and answer questions that you turn in to Town Hall for a free souvenir to take home with you. 
Not so much history, but fun nonetheless, the historic Town Hall has also started, during this last summer, a Rock Garden. Visitors are encouraged to bring painted rocks from their area to share in the garden and also to take a rock home with them as a token of their visit to Julian. 
Other activities in Julian that are sure to please:
A Gold Mine Tour led by the folks at Eagle and High Peak Mine. The tour takes you inside the old mine, where you can see the equipment and learn about the history. The tour also includes a bit of gold panning.
Julian Mining Company and Fort Cross offer visitors a chance to step back in time and enjoy activities such as hayrides, archery, candle dipping, petting zoos and gem sluicing.
Be sure to head over to Visitjulian.com for even more information on the city. 
Now, Let's dive into a few of these locations provided to us from Robin Boland and the Julian Chamber of Commerce! 
Julian Mining Company and Julian Farm 
A wonderful farm with an added bonus of having a place to pan for gold with the kids, Julian Orchard and Mining Co is a great destination. We spoke with Gina from the farm who informed us that, although all the orchards are picked over at this point, they are still open for pumpkin patching, hayrides, cider pressing and axe throwing as well as a farm animal petting corral. She informed us that the Julian Orchard is open on weekdays Monday, Thursday and Friday for just pumpkin picking so the crowds are light on those days. On the weekends however, crowds are significantly larger so it's important to keep that in mind! Social distancing is possible on the 25 acre farm but be sure that when on the hayrides, cider pressing, or waiting in lines you take it upon yourself to follow CDC guidelines. Gina informed us that over 90% of guests wear their masks and, if you worry about crowds, you can still visit the farm during their weekday hours for pumpkin picking fun. 
Fort Cross Old Timey Adventures
Fridays through Sundays in October are very busy at Fort Cross with the Autumn Jubilee and Haunted Harvest well upon them. This family farm sent us some information on their October events that are not only perfect for kids but for all ages! There are quite a few things happening all the time at Fort Cross and right now, they are in full swing with fall! We had the chance to speak with Doreen Cross who had some wonderful information to share with us!
Here are some of the amazing activities you could expect if you visit: 
From Doreen:
Fort Cross specializes in experiential field trip events. Several of the programs satisfy California Common Core Standards for curriculum, and all activities include hands-on education. Our educational programs include Julian Homestead, California History, The Native Experience, Colonial Life, High Adventure, Survive the Wild, Spring Spectacular, Peter Rabbit's Adventure, Johnny Appleseed's Discovering America, and Holidays on the Homestead.   
The Autumn Jubilee is also upon us every Saturday and Sunday through October 25. 
Admission is currently free and paid activities (prices vary) include archery, tomahawk throwing, ghost town slingshot gallery, petting zoo, reptile show, cider pressing, hayrides, jug band show, painting crafts, candle dipping, and more.
Free activities include entry into the pumpkin patch, lilac maze, tire swings, walking trails, photo ops, etc.
The Haunted Harvest is Friday and Saturday nights in October through October 24, and then a Thursday event on October 29.
$25 per person includes jug band show, hoedown, ghost story, and haunted hayride.
Thanksgiving Weekend will kick off the Holiday Hayride event which will be similar to the Autumn Jubilee, but with more of a Christmas theme.
If you are interested in joining them for the Autumn Jubilee or the Haunted Harvest events, please visit their website for more information, and to purchase tickets go to:
Autumn Jubilee (FAQ page included):
https://www.fortcross.com/autumn-jubilee
And Haunted Harvest:
https://www.fortcross.com/haunted-harvest-hayride
It is very strongly recommended to purchase ahead of time to guarantee availability at these events, as they do sell out of some activities.
Also, be sure to check out their social media pages for contests and giveaways. Currently, they are running a photo contest with the hashtag #FortCrossAutumnJubilee.
Where there are prizes of $50 and $100 up for grabs!
Facebook @fortcrosscamping
Instagram @fortcrossadventures
Also, a big disclaimer: do not mistake them for the farm next door. The entrance to Fort Cross is located directly across from Julian Hard Cider. The main entryway is through the 2 fort towers that have "Fort Cross" written across the top! 
If you are going to be spending time in a place so well-known for it's apple picking it would be silly for you not to try what those apples end up becoming. Here is what Laurie at Moms had to share with us about a wonderful pie shop right in the heart of Julian:
Mom's Pie House is a one of-a-kind pie shop famous for making apple pie that would make Grandma proud. All of their pies and baked goods are made fresh daily, by skilled bakers using the finest fruit and freshest ingredients available. At Mom's, you can watch bakers prepare pies and baked goods for you right through the front window. On top of that, steaming soups and sandwiches are served on freshly baked whole-wheat buns daily. Stop in for a pie or nice lunch at Mom's Pie House.
They have two locations: one in downtown Julian located at 2119 Main Street and the other at the Farm located in Wynola, about 4 miles west of downtown Julian at 4510 Highway 78. 
When visiting Julian, it seems almost right to stay in a historic and fully restored landmark straight out of the 1870 gold rush era. The Julian Gold Rush Hotel takes you back in time for a memorable stay in a romantic and vintage Victorian room with period antiques, canopy beds, and beautiful quilts. Book now and enjoy your time at one of the best bed and breakfasts in California!
For those of you who say it's hard to find leaves that actually change colors in the fall, Julian is here to prove you wrong with beautiful shades that are sure to be a sight. For a view of those hard to find shades, Lake Cuyamaca, on the outskirts of town is a wonderful spot to enjoy scenery and colors. Just 15 minutes outside of Julian, Lake Cuyamaca offers a variety of activities such as hiking, boating, fishing, camping, rentals, and picnicking. Due to the weather because of the elevation, this San Diego lake is the only one in the county that offers trout fishing year round. For an operating schedule and to learn about special regulations and fees, visit their website and discover what this lake has to offer! 
Julian is also home to a few craft breweries and cideries. There are 4 wine tasting rooms (2 at wineries) and 2 hard cider tasting rooms with a tap room that features many local brews. One winery nestled at the base of a picturesque mountain is the Volcan Winery. 2 miles from the historic town center of Julian, take a scenic drive to this vineyard and tasting room to try out their various wines. Open Friday, Saturday, Sunday, and Monday from 11-5, drop in for a taste. 
Idyllwild
Moving away from Julian and heading a little closer to home, the second part of this guide will focus on another picturesque mountain location, Idyllwild. Voted as the best small artist town in the US, Idyllwild has always been filled with great art shows, live music and awesome activities for all ages. Covid may have slowed them down a bit but, it won't be long till the many great shops and business owners that grew up there or fell in love with it are back to making big strides in this little town. Through it all, Idyllwild has remained a great spot to get away to. It is a world away from the cities but only a 2 hour drive from OC, LA and San Diego!  It's truly a magical spot and we hope to touch on a few wonderful locations that really make this town click!
Lodging
There are some special lodging options in Idyllwild for you to stay at on your visit and if you are looking for the perfect fall escape look no further than these awesome spots! Set among tall pine trees and beautiful rocky mountains, these cabins will transport you to a serene and quiet environment that will make you forget you're only a few hours away from home.
One location we had the chance to learn about came with some really cool history and a fascinating backstory. A big thanks to the amazing Ida Fernandez-Staples from Idyllwild Getaways for sharing this incredible information.
From Ida:
Idyllwild Getaways is owned and run by her, a Mom to a teenage son.  
Her parents started coming to Idyllwild in the mid-60's and she first moved there in 1969, during which Idyllwild had an intense winter and scared away the young parents with 3 little kids. They moved back in 1976, at which point they immediately fell in love with The Mystery Lodge.  As a child Ida will never forget walking through the oversized wooden, front door into the great room with sky high ceilings and enthusiastically screaming back at her parents "Can we live here, please?"
They would get the chance to do so when they beat out Elvis Presley's drummer for the house, who was also looking at purchasing it. 
Little did they know that the house came with some pretty interesting history. They found out that it was the summer writing home for famous author, Erle Stanley Gardner. The story goes like this – Erle Stanley Gardner took a road trip and found the Temecula area where he set up what he referred to as the "fiction factory;" a ranch where celebrities and friends would come to stay. It became so popular that he purchased several other homes out of the area to go and be alone to write. One of those homes was Jameson Drive and when he owned it, it was the main house, and the barn/one bedroom cabin below; together this made up one property of almost 4 acres. He would escape to The Mystery Lodge to write and we can only imagine what books and Perry Mason series were drafted here, by the fire or on the deck. $50 booking discount on a two night stay. Our readers can reference the code: IrvineMoms.   
 *Some black out dates and restrictions apply
 Idyllwild Getaways
This lodge was originally built in 1945, by Lou Britton. He had the knotty pine custom milled in Idyllwild and originally it was heated by an oil furnace. It was owned by Erle Stanley Gardner's estate for 3 years after his death until 1973 when it was sold to June Pollack who subdivided the property into 4 parcels. Ida Fernandez-Staples and her family bought it in 1976 with the dream to have all of the property back together again. That dream was realized to completion in 2014 when she bought the last parcel, the geodesic dome next door. The house has since been used in commercial photo shoots and several movies including the Mar Vista film, One of Us and the Indie film, Vertical. 
Visit the link above for availability and more information on this historic 4 bedroom lodge with plenty of amenities to keep you and your family comfortable. 
The Dome was built by a man named Ray, a former Marine, Engineer and lover of R. Buckminster Fuller, creator of the geodesic Dome. When he retired he bought the lot and built this beautiful geodesic dome cabin amongst the pines. Ida has remodeled lots of it and emphasized the mid-century modern throughout the house with a custom artist designed fireplace and custom decor throughout.  
Just a short walk from town, the Dome is a magical location that will surely make for a memorable time. Visit the link above to book a stay at this unique airbnb location. 
With a near perfect 5 star rating this cabin, located just a mile outside of town center, is the perfect destination for a weekend away for two. Its proximity to downtown allows for great options to keep you entertained if you can draw yourself away from the tranquility and romance of this architectural cabin in the trees. The host of this airbnb, Jennifer, suggests consulting the calendar on the listing as availability changes daily. There are dates left for this year so be sure to visit the link above to find one that works for you. Book your stay now and enjoy a perfect time in this quiet and private cabin with more than enough amenities to keep you comfortable.  
Great Restaurants
The Idyllwild Pizza Company is a family owned business operated by Idyllwild native Kenna Dahleen. Thanks to Ida, this spot was brought to our attention and we are proud to support a business woman who she calls, "an amazing individual, mom, great boss, and business owner who constantly gives back to the community." Who wouldn't want to try a slice of pizza from an overall fabulous human being like that. Stop in at this location that some consider to be, "the best pizza on the hill."
Idyllwild Brew Pub was founded by Frank Ferro – a great guy and a charismatic character. According to Ida, Frank has been on the mountain forever and is responsible for bringing Idyllwild their very first brew pub. Here, they brew their own beers, serve pub grub, and feature live music on most weekends; and they do it all creekside. If you find yourself in Idyllwild, this brewery is a must visit spot!
The Candy Cupboard is the best little candy shop ever!  Family owned and operated, Jennifer McKee has taken over this location and made it the highlight of every kids visit!  She has done such a wonderful job with the shop that Ida from the Mystery Lodge has decided to include a gift certificate for every child who is a guest of the lodge!  She awards any child, over the age of 3, who comes to stay at The Mystery Lodge a special gift of $3 to spend there. To her, this really creates a lasting impression on the kids and warrants a memorable experience to them when they use their certificate and walk into a room full of candy! An amazing way to promote a business in town and an even more amazing business to promote! Head to the center of Idyllwild, bring the whole family, and prepare to have your sweet tooth satisfied at The Candy Cupboard!
Other Cool Finds
Idyllwild Arts Academy is one of the best boarding arts high schools in the United States.  It enhances the Idyllwild community because the school opens up all of the student performances to the public for free. This has allowed the community to be able to see theatre, songwriting concerts, creative writing works, sculpture, mixed media, film, and so much more. A really cool location in this artistic town! Be sure to check the calendar on their website if you are in the area to catch a glimpse at some of the wonderful work this school has to offer.
Mayor Max
Finally, I would be remiss if I did not mention Idywilld's honorary town Mayor, Max the Dog! You can check him out on Instagram @mayormax1 or visit his website to check out what this cute pup is up to –  Mayor Max. 
And what better way to end this wonderful guide with a shot of this absolutely wonderful Mayor. We hope you were able to find some great locations to take your family if you plan to visit one of these two great mountain towns! Thanks for reading.