Big Bear is so varied and there is so much natural beauty all year long that there are reasons to visit in every season. Surrounded by Mountains, the climate is mostly temperate, with peak tourism in the summer and winter.  Big Bear  is a picturesque mountain town that offers tons of outdoor activities for the family to enjoy.
We recently visited Big Bear and had such a relaxing time. We took a different to arrive to Big Bear, HWY 38 THROUGH REDLANDS. It is a bit longer, but is the most scenic.
With some much talk about Covid19, having a local getaway is such a wonderful distraction to unplug and enjoy nature is key for family to reconnect.
With times like these while there is uncertainty one thing is for sure, Familytime. We found all the activities that we embarked upon did follow the State Mandidated Face Coverings and limited capacity to the Activities.  When we arrive to our Lodging,  which was a contact free check in. We were provided a code to enter the Cabin.
At Cabins 4 Less you can choose from 35 vintage cabins and 9 modern lakefront condos – all nestled along the southwest side of Big Bear Lake. Just minutes to ski resorts, shopping, restaurants, bars, and breweries – no-cleaning fee rentals are perfect for recreational travelers and weekend wanderer.
Book online or call Cabins4Less: (909) 422-0117. After 9pm PST, please book online only.
We received a welcome text in the morning to update us of travel and traffic conditions which was a great to have the update to date communication.
The location could not be better! The Cabins sit on the lake so we had breathetaking views of the Lake.
We enjoyed fishing on the Dock in the Evenings. This small town is such a gem tucked away in the Mountains. During the week, it was less- popluated and calm.
It did get cool during the Evening hours. We  packed extra layers of clothing. The nice thing about being outdoors during the day is that the weather is nice and cool. At night time, you get that crisp air.
If you want to spend some time on the Water without the hassle of renting a boat? A must do is the Big Bear Queeen.
The BIG BEAR QUEEN was built for Big Bear in 1973, replacing the Old Sierra, the original boat tour from the 1930's. The brand name of BIG BEAR QUEEN with it's original hull design has been taking passengers in Big Bear Lake for tours since 1965. At the Helm was Captain Chris whom was so thorough in sharing unique insight. Fun fact , the VP of Netflix has a Mountain home on the lake. Easy to spot with the 3 consecutive fire places.
The ride is an easy one, the lake is calm and not intimedating. We went in the afternoon so it did get a little windy. On the Boat, blankets are available to borrow and stay warm.
The Boat holds 60 to capacity however, with COVID19 restrictions reservations are limted. On our Round Trip tour our boat must of had 15 people on the tour.
Fun for kids and history buffs alike, as we learned about the different parts of the Lake.  Along the Tour, we passed the Solar Observatory is a university-based solar observatory in the United States. It is operated by New Jersey Institute of Technology. BBSO has a 1.6 m clear aperture Goode Solar Telescope, which has no obscuration in the optical train.
You can bring your own Kayaks and Water Toys as there are public launches available.
Fun to do with the Family; The ZOO!
When visitors walk into the  Big Bear Alpine Zoo in Big Bear Lake you will find Bears, Raccoons, Bald Eagles and Owls.
This is a great way to walk outdoors and spend the day before lunch. Just as we did. You can park on the street and it is free.
Covid restrictions do require you to wear face coverings and your tempeture will be taken at the Entrance.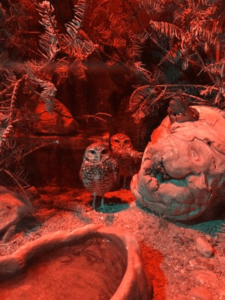 General Admission Prices
Rates and fees are subject to change anytime.
Adults (ages 11-up) $12.00
Seniors (age 60+)  $9.00
Children (ages 3-10)  $9.00
Children (under 3) Free
Military Discount Available
Where to go to EAT?
Wyatt's Grill and Saloon is the kickoff point for the FUN to officially begin with music and outdoor flare. The vibe here is easy going and atmosphere is wide open and shaded.
Wyatt's Grill and Saloon is laidback, intimate atmosphere creates the perfect setting for locals and travelers alike to enjoy some serious comfort food.
What a way for Parents to unwind after a day of playing with the kids. There is a seperate window to place Drink Orders. Make sure you come Hungry! The portions are pretty good size and sharing is encouraged.
After we ate, we took a trail hike. Here are some great Trail Suggestions for you and the family to enjoy
Woodland Trail
Castle Rock Trail
Pine Knot Trail
If you are looking to add more hiking into your weekend trip
Check out the latest Trail updates on: https://www.alltrails.com/us/california/big-bear-lake
MORE FAMILY FUN at the
Big Bear Speedway
Big Bear Speedway RT8 Sodi Karts
Sodi Kart's RT8 is a mini-race car where you go 30 mph on a 1/5 mile open-air racetrack filled with hairpin turns and s-curves.
We had a blast here! If you are a serious adrenaline junkie  then make sure you stop here.
Arrive early as you do have to watch a safety video, and sign waivers. Soon after you are given a time slot to drive.
The Staff is supportive and helpful. Bring your sunscreen as there are a few tables with umbrellas so if the seating is full you want to be sure to have your sun protection.
Here is what drew our attention and why we were excited to go!
The NEW and exhilarating aerial adventure that will have you balancing on ropes, crossing bridges, and climbing through obstacles: all from the safety of a climbing harness! Participants are on a self-guided tour through 37 obstacles spread over 6,400 square feet on 2 levels that are 12 to 35 feet in the air! Elevate your family vacation to a whole new level.
RATE
$12 per person
(Per 20 minute session)
42" – 48" must be accompanied by a paid adult 18 years or older
Over 48" may participate alone
(under 42″ not permitted)
There is not a timed session so the kids can climb until they are tired and exhausted all their creative ways to climb.  There is a Staff member to help them get set up and another on top of the Course.
We saw kids as young as 5 with parents climbing. This is a must stop that you will not regret.
Our Adventuring continued over at the Alpine Slide. We were thrilled to check this out. We loved every bit of it.
Here are some COVID details:
COVID-19
We have implemented new cleaning and disinfecting procedures as
well as social distancing practices.  For the safety of everyone,
guests are required to wear face masks or face coverings when
visiting us.  We ask that you please:
* Wash your hands frequently
* Sanitize before & after each attraction
* Maintain at least 6 feet distance from others
* Avoid touching your face
You can ride alone or ride with your Husband, Wife or Child.
Mineshaft Coaster is a thrilling
new mountain coaster that is fun
for the entire family!  Enjoy
mountain scenery on your way
up, then you control the speed
down a mile long track!
Experience a variety of thrill ride
features such as steep descents,
dips, twists, hairpin turns, tunnels
and 360-degree corkscrews!
Mineshaft Coaster is the first and
only mountain coaster in
California!  
Open all year, the Alpine Slide at Magic Mountain, Southern
California's only authentic bobsled experience
The Soaring Eagle is a new and exciting ride that offers amazing views. Go-Karts and an 18-hole miniature golf course make this a popular year-round family fun destination.
Single Ride – $20
(over 54″ tall)
Child Ticket – $10
(38″ – 54″ tall & a minimum of 3 years old)
Must ride with an adult 18 years or older
Double Riding
Double riding permitted if combined weight does not
exceed 375 lbs in dry conditions or 330 lbs in wet
conditions.  Operator must be 18 years or older and each
rider requires a ticket
Wrapping up….
Taking your family to Big Bear is a wonderful experience and a must-do for all families, in my opinion. Hopefully I've given you a few tips to help you make the most of these special, sunny days! Bookmark this so you have it on hand.
Included the links below for your reference:
Cabins4Less
Alpine Slide at Magic Mountain
Big Bear Queen
https://www.facebook.com/pg/bigbearlaketours/posts/?ref=page_internal
https://www.instagram.com/bbqueentours/
Wyatt's Grill & Saloon
https://bigbearevents.com/wyatts/
https://www.facebook.com/Wyattsbigbear/
Big Bear Alpine Zoo
https://friendsofthebigbearalpinezoo.org
https://www.facebook.com/bigbearzoo
Big Bear Speedway
http://www.bigbearsnowplay.com/gokarts.html
http://www.bigbearsnowplay.com/ropescourse.html
Big Bear Guide