Did you know, Trick or Treating originated from a tradition that can be traces back to the Middle Ages and the rituals of Samhain? In those days, people believed phantoms would walk the Earth on the night of Samhain, so people would dress up in costumes in an effort to repel the spirits. It wasn't until much later when the Catholic Church supplanted pagan festivals with their own festivals that we started seeing children dress up as ghosts going from house to house accepting food in exchange for prayers! So, in the spirit of Halloween, we've made a helpful list of the top 10 locations to take your little spirits to get some tasty treats and have a great time! Find guides like this and many others on IrvineMomsNetwork.com!
Rise OC Church: Trunk or Treat
Join us for a safe (masks required) trunk or treat for kids! Trunks, treats, photo area and more! Costumes are encouraged but no scary ones please. Safe and easy way to trunk or treat, on Sunday, October 31, from 1 PM – 3 PM at the Rise OC Church parking lot. 
Put on your costume, grab your candy bags and join the First Baptist Church of Walnut Valley celebrate their Harvest Festival on October 31

st

, from 5:30 PM – 8 PM. Their activities include trunk-or-treating, photo opps, trackless train rides, an outdoor showing of "it's the great pumpkin, Charlie Brown" on the lawn. One of the best features? They will have burgers from the In-N-Out Cookout Truck as well, while supplies last!
Old Towne Orange Plaza "Treats in the streets autumn festival"
Join the city of Orange in their Treats in the Streets Autumn Festival at Old Towne Orange Plaza on Chapman Ave and Glassell St. Enjoy an array of kids activities, non-profit booths, community displays, trick or treating, a kids costume parade and a saber guild light show!
Come on over to the Anaheim Plaza in your costume and trick or treat at participating stores and restaurants! Kids aged 12 and under, dressed in costume can enjoy a free and safe way of trick or treating. Kids must be dressed in costume to participate, look for "trick or treat here" signs posted in participating stores and restaurants. 
Safe Harvest Halloween Festival
Help Grandma's House of Hope celebrate in their Safe Harvest Halloween Festival, in partnership with Kids Can Cosplay. This annual event provides children a safe alternative to trick or treating on Halloween for low-income families in Anaheim. This event on average serves 1200 children and their families. Join them on Sunday October 31

st

from 2 PM – 5 PM. 
His Place Westminster's Children's Ministry hosts it's first annual Trunk or Treat! Come dressed in your best costumes and get tons of candy, play games, and enjoy treats – all for FREE. Family fun for all ages – don't miss out! Enjoy an array of foods, games, bounce houses, treats and more! Come dressed in your costume, event will be held Saturday October 30

th

from 5 PM – 7PM.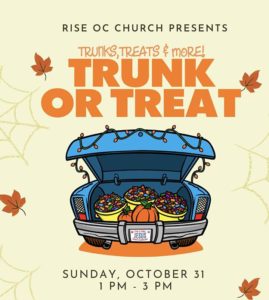 Bring your family to walk, collect treats and enjoy an array of beautiful cars, from classic to current at Fairhaven Memorial Park in Santa Ana. Free family event open to the public with advance registration. Costumes are encouraged and children must be accompanied by an adult.
Note:  CDC Guidelines will be Observed
Trick or Treat Through the city
General Admission Trick or Treating on Sunday, October 31st at 12:00 PM and 3:00 PM and 4:00 PM | Members Only Trick or Treating at 10:30 AM. We're all treats and no tricks here in the city! Come be a part of our special trick-or-treat extravaganza as our Pretendgineers give away some neat surprises! This party is bound to be a scream!  Halloween inspired music will also be played to inspire children of all ages to get up and BOOgy!

Grown-up Tip: After Halloween is over we encourage you to donate your costumes to Pretend City! We will gladly accept costume donations after the holiday and put them to good use in one of our many exhibit spaces for children and families to enjoy throughout the year. Look for our Costume Donation Box at the front desk.
Hollywood Halloween Trick or Treat
Have a Hollywood Halloween at the Citrus Plaza Shopping Center Food Court. This event will be on October 23

rd

, from 11 AM – 2 PM. Enjoy a $7 lunch from Famous Dave's BBQ and activities such as: Pumpkin Decorating, Costume Parade, Petting Zoo, Photo Booth, Trick or Treating, Games and Face Painting. Register now and be sure to bring your paper or digital ticket with you to the registration desk. 
As fall arrives and the days are shorter, Halloween is around the corner and in full-swing at The Point in El Segundo, CA. The Point's unique shops, hip eateries, and expansive outdoor plaza, offer the perfect place to have an exciting and engaging Monster Party for the whole family. This fall, The Point invites you to join their "Mummy & Me" which includes Pumpkin Decorating, Airbrush face painting, balloon twisting, special Halloween Stilt walkers and trick or treating.