Top of the World Loop
This 7.1 hike into the canyon includes scenic views of the Aliso Canyon Wilderness Park and also serves as a great workout. It starts off easy, but there will be a bit of an incline towards the end. If you don't feel up to hiking for 7 miles, you can try out one of the more mild trails nearby. Whichever one you choose is sure to provide you with serenity.
3300 Alta Laguna Blvd. Laguna Beach CA 92651
United States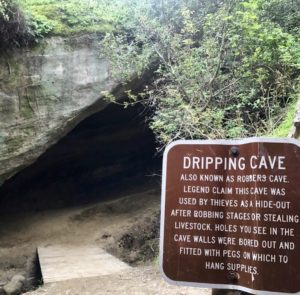 Dripping Cave Trail
Head to Laguna Beach and try out the Dripping Cave Trail. Its name makes it one of the most intriguing hikes in the area, and those who follow the trail are in for a treat. If you want to witness the "dripping" effect, be sure to visit the trail after rainfall. To access this trail, park at the Aliso and Wood Canyons Wilderness Park Visitor's Center. Bring some cash along with you, as there is a $3 daily fee for parking.
28373 Alicia Pkwy Laguna Niguel, CA  92677 United States
Red Rock Canyon
The Red Rock Canyon Hike in Lake Forest is an easy hike that is 4.2 miles long. Trailgoers are rewarded at the end of the trail with breathtaking rock formations, which are not something you typically see in Orange County. The trail also provides views of the Whiting Ranch Wilderness, which is a great escape from the busyness of your day to day life.
26701 Portola Pkwy. Foothill Ranch, CA  92610
United States
Crystal Cove Green Route
Formed by the "No Dogs" Ridge, "No Name" Ridge, Poles trail, and Lower Moro Canyon Trail, the Crystal Cove Green Route is a 3 mile loop that allows you to explore Crystal Cove State Park. To access this trail, park at the El Moro Visitor Center. This is a moderate hike that is 2.9 miles long.
8471 N Pacific Coast Hwy, Laguna Beach, CA 92651
Barbara's Lake Loop Trail
One of the beautiful lakes in Orange County is Barbara's Lake, located in the James Dilley Preserve. Take the easy, 2.8 mile long Barbara's Lake Loop Trail to get some fresh air and take in the scenery. To start this hike, park at the James Dilley Preserve.
18751 Laguna Canyon Rd. Laguna Beach, CA  92651 United States
Peters Canyon Loop Trail
Located near the city of Orange, the Peters Canyon Loop Trail is perfect for running, walking, biking, or horseback riding. Be aware, there is a $3 charge for parking. If you would like a slight challenge, there are small hills that give you the perfect amount of incline. This hike is ranked as moderate and is 5.9 miles long.
26981 Peters Canyon Rd Tustin, CA 92782
Holy Jim Falls Trail
About 2.8 miles off of Trabuco Canyon Rd. is Holy Jim Falls. Enriched in history, this hiking trail is named after the infamous beekeeper James T. Smith, who was known to own the land in the 1870s. The hike ends at the waterfall and is great for beginners. It can be tough to locate, so for exact directions visit the official website, https://www.fs.usda.gov/recarea/cleveland/recarea/?recid=47628
Black Star Canyon Trail
If you are looking for a hike and want something at a higher difficulty, take on the Black Star Canyon Trail. This trail is full of history, as it is named after the Black Star Coal Mining Company, which was prominent in the 1800s. Although the hike is fairly easy at the beginning, you must climb across some boulders to reach the waterfall at the end. The hike is 7.1 miles long and is ranked as moderately strenuous.
13333 Black Star Canyon Rd, Silverado, CA 92676
Photo Credit: @bluefinprincess
 Photo Credit: @amberrfay
Photo Credit: @ocwanderlust
 Photo Credit: jesse__olson
Photo credit: @_sebastianislands
Photo credit: @xoxo_sonali
Photo credit: @travelwithsuri