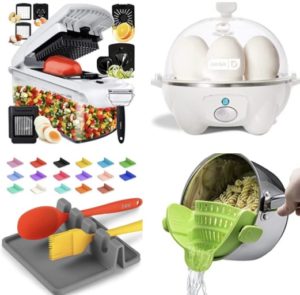 10 Kitchen Gadgets 
The kitchen is an essential part of the home. So why not make it easier on yourself when you are cooking?
Cooking is already a hard and stressful job, but that doesn't mean you have to miss out on amazing kitchen gadgets! Here are 10 kitchen gadgets you must have for your own kitchen!
Mueller Austria Vegetable Slicer
The Mueller Austria vegetable slicer is a great gadget for any kitchen! It has 8 blades to slice vegetables with and will save you a lot of time!
Fullstar Vegetable Chopper 
The Fullstar vegetable chopper has 9 separate kitchen tools! It can chop vegetables, keon squeezer, peeler, and more. It has over 15,000 reviews on Amazon.
Kitchen Gizmo Snap N Strain Pot Strainer 
The Kitchen Gizmo pot strainer is a tool you need in your kitchen! It is an adjustable clip for pots and pans! It will help facilitate straining pasta and more!
Zulay Kitchen Utensil Rest
The Zulay Kitchen Utensil Rest is great for putting your cooking spoons, ladles, tongs, and spatulas on. This is a great tool because there will be no dripping on your counter tops! This product has over 23,000 reviews on Amazon. Get it on Amazon for $8.99!
Kitchen Mama Electric Can Opener 
The Kitchen Mama electric can opener has over 54,000 reviews on Amazon. It helps open cans with a simple press of a button! This is a great gadget for anyone who struggles with opening cans. Get it on Amazon for $29.99!
Testo 270 Cooking Oil Tester 
The Testo 270 cooking oil tester is a great tool to make sure that only high-quality foods are cooked! Get it on Amazon for $431.77! 
Spring Chef Magnetic Measuring Spoons 
The Spring Chef measuring spoons are a great item to have in your kitchen and have over 28,000 reviews on Amazon! Don't guess your measurements, and use this instead! It works for both liquid and dry contents. Get it on Amazon for $14.97!
Novinex Splatter Screen 
The Novinex Splatter Screen is a great use for any frying pan because it helps prevent oil splashes! It will also help keep your kitchen clean! Get it on Amazon for $21.99! 
DASH Rapid Egg Cooker
The DASH rapid egg cooker is a great kitchen tool! It has space for 6 eggs and it has multiple features, including hard boiled eggs, poached eggs, scrambled eggs, or omelets. It has over 11,000 reviews on Amazon. Get it on Amazon for $19.99!
Yonanas Dessert Fruit Soft Serve Maker
The Yonanas  is a great item for any kitchen! It is used to make classic organix healthy dessert soft serve ice cream! Get it on Amazon for $45.63!
These 10 kitchen gadgets are must have items for you.
Did you know that in 2021, kitchen gadgets in the United States were forecasted to have a total retail sales value of 17.6 billion dollars.
This is a big market, so go on Amazon and find something you need for your kitchen!