Camping season is still upon us and locations in the OC area are still offering reservations for anyone who is interested in getting outdoors and reconnecting with nature. The pandemic has forced so many of us to remain indoors these last few months but, with California starting to open campsites cautiously and on a case-by-case basis, getting outside and enjoying our environment is becoming more of a possibility every day. For campers who are itching to get back to fresh air and sleeping under the stars, the IrvineMoms camping guide has got you covered for any and everything you could need for a successful trip. From beginners to experts, our guide will break down what to bring for you to have a memorable and safe camping experience. 
We recently decided to head to Arizona and explore the Gems of Sedona and Flagstaff among our adventuring to the Grand Canyon.
We wanted to try new and unique family finds. We discovered the MANZANITA Camp Ground in Sedona.
Manzanita Campground is a small, year-round, tent-only facility with campsites that fill up very quickly. Visitors enjoy the campground for its fishing and swimming holes along Oak Creek, beautiful scenery, and excellent wildlife watching.
Here are some important tips to know:
You need to book reservations 6 months in advance.  You can bring your pets.
Bring your Fishing gear, no rentals. It is only a 8-10 minute drive into town where you will find a Whole Food, Safeway, Wells Fargo and all the shopping and eateries you can acount for.
What we loved: We loved the proximity to the creek where you can swim, lounge, fish and climb rocks.
After 3pm it is nice and shady so the temps drop drastically here. It is perfect for you to enjoy after a day of Hiking and Fishing to relax with a light breeze.
The Campground only has 13 sites available so it is not crowded.
What we didn't love so much:
You have to go to the next campground to shower.
What to bring:
It gets dark. so bring a flashlight and floaties for the kids to enjoy the swimming holes.
Next Stop is the KOA Williams AZ stop:
Williams / Exit 167 / Circle Pines KOA
800-562-9379
–
Interior Shots of the Covered Wagon, Sleeps 6
Well lit and has a strong A/C
This is a new hot stop we can appreciate! From Fish Fry on certain days, having the cafe available on days you do not feel like cooking  to on site Market.
You and the kids will really find time to enjoy a fun weekend as we did.  I can tell you at this point, this Mama is tired. The location has clean showers and bathrooms.
When I say there is alot for kids to do , there is a lot for kids to do.
For instance, there are go karts, mini golf, bouncy pillows, playground and space! Space for them to bike and run around.
Sleeping  in Covered Wagons our answer to Adventerous Glamping
Experience a taste of the pioneer spirit in our new hand-crafted covered wagons. The perfect combination of Old West ambiance, comfort and convenience, this glamping adventure will invoke nostalgia that transcends every generation.
When going camping, the first thing you think about is about Tent Camping. This takes your Camping experience to another level. Think Family inclusive resort of Fun Fantistic Memories!
Someone new to camping will want something within their budget whereas those who are dedicated campers will want the best gear for their particular need. These three tents scale up, starting with the perfect starter tent and ending with the perfect expert tent. 
Conestoga Wagons were used in the 1700 and 1800s by pioneers and are a symbol of the excitement, possibility and adventure of westward expansion.
Here is why it is Kid Approved by our own Irvine KID :
Never BORED.
Never want to go home because it so exciting and other kids to play with.
Why we love it and recommend it:
Family Friendly
Pet Friendly
Close proximity to Flagstaff, Williams, Grand Canyon all center to Route 66.
Two exits from the Camp KOA, you will find Historic Downtown Williams with classic 50's Diner's and Shopping.
0.5 Mile up the Road is Santa Fe Lake. This spot is ideal for Fishing under the shade. It is encouraged to bring your own Kayak or Stand Up Paddle Board to the Lake as well to enjoy the scenery.
We hope this helps inspire you to spend some time outdoors with your family at the KOA! You can bring your RV, Camper, Tent or opt to try their Cabins or even their Covered Wagons like we did.
Here are some ideas to help you start your outdoor adventures with KOA. This was our first time and we can see why this is a must do annually.
Starter:
Price: $103
Dimensions (LxWxH): 120 x 120 x 72 in.
Weight: 16 lbs. 10 oz.
Capacities: 2P, 3P, 4P, 6P
What we like: The great price makes this tent perfect for people who only go camping once or twice a summer. 
Occasional Camper: 
Price: $300
Dimensions (LxWxH): 120 x 120 x 80 in.
Weight: 25 lbs. 8 oz.
Capacity: 6P
What we like: Made with quality material, there is more than enough space in this tent for the occasional camper to store their gear. 
Expert:
Price: $670
Dimensions (LxWxH): 168 x 120 x 78 in.
Weight: 82 lbs.
Capacities: 4P, 6P, 8P
What we like: Extremely roomy, impressively durable, and perfect for families who love to camp. 
Kodiak Canvas Flex-Bow Deluxe 8
After the tent is secured the next logical step would be the sleeping bag. Here is what we found that impressed us. From low end to high end as well as fun and cool designs for your kids, picking a sleeping bag is as important as picking your sleeping quarters. 
Starter:
Price: $41
Temperature rating: 30°F
Fill: Synthetic
Weight: 4 lbs. 12 oz.
What we like: Perfect for the whole family, this sleeping bag gets the job done at a great price. 
Occasional Camper:
Price: $119
Temperature rating: 20°F
Fill: Synthetic
Weight: 4 lbs. 8 oz.
What we like: Still a good priced sleeping bag but with a premium feel and build. Perfect for campers who are looking for a step up. 
The North Face Eco Trail Bed 20 
Expert:
Price: $289
Temperature rating: 5°, 20°, and 40°F
Fill: Synthetic; 800-fill down
Weight: 3 lbs. 12 oz.
What we like: The sleeping bag features 3 layers for added warmth in fall and winter months. Great for campers who are looking to get outside year round. 
Fun for Kids: 
Price: $60
What we like: BuddyBagz is essentially an all in one travelling/camping/overnight kit that has all a kid can need in a super fun & easy to use design. Complete with a fuzzy stuffed animal, a pillow, a sleeping bag, a night light, a toiletry bag and an overnight bag, BuddyBagz is perfect for the little camper in your life.
When your tent is pitched and the sleeping bags are laid out you know what is coming next? "I'm hungry!" When you are out at a campground the easiest and fastest way to prepare food is with a portable grill. And let's face it, who doesn't love a good hot dog and hamburger in the great outdoors! 
These portable grills are here to further streamline your camping experience. 
Picnictime's X-Grill 
Price: $55
What we love: This highly-portable folding grill sets up in seconds. With its chrome tri-fold cooking grate and unique 'X' design, you will be cooking in no time. All you need is charcoal/kindling and you are ready to go!
Coleman Fold N Go Propane Grill
Price: $90
What we love: The Coleman grill is inexpensive and compact but still gets the job done. This is a great grill for camping as it delivers good, consistent heat for up to 3.5 hours! Be prepared to cook your steaks, burgers, and other dishes with ease!
Coleman Gas Camping Stove
Price: $44
What we love: The most affordable option and still perfect for cooking outdoors. The grill offers consistent performance and is simple to light. Its numerous features make it easy to grill your favorite foods while camping. 
When the food is grilled and the tents are pitched, a comfortable place to sit is all that is missed. Now you could simply lay in your tent to enjoy your meal but who wants to get crumbs in their sleeping bag? 
An added bonus: having a comfortable chair to sit in will allow you to enjoy family time by the fire under the night sky. 
Kijaro Dual Lock Camping Chair
Price: $40
Weight: 9 lbs. 6.4 oz.
What we love: Affordable, sturdy, comfortable, breathable & quick-drying. This is the best camping chair overall for both price and value. 
Kijaro Dual Lock Camping Chair
Kelty Discovery Low-Loveseat
Price: $100
Weight: 15 lbs. 6 oz.
What we love: It makes for a practical, comfortable, and affordable cozy perch for two. This camping chair is perfect for you and your loved ones if you prefer not to sit alone. 
ALPS Mountaineering King Kong Chair
Price: $60
Weight: 13 lbs.
What we love: This seat can hold up to 800 lbs, well insulated with a high seat, adjustable armrests, and large storage pockets. This is a quality camping chair that will keep you warm by the fire at night. 
ALPS Mountaineering King Kong Chair
If you are looking for something to drink or carry your utensils when it is time to sit down and eat, we found these coolers will get the job done. They are sturdy and versatile and are perfect to bring along for your trip. 
Malibu Picnic Basket Cooler
Price: $102
What we love: If you are planning a trip for two, The Malibu Picnic Basket Cooler is the perfect complement. Take it along on your next adventure, enjoying all the practical benefits of a conventional picnic basket. The durable cooler keeps things cool and insulated, with padded dividers and a removable, water resistant lining for the food storage section.
Coleman 50qt Xtreme 5
Price: $50
What we love: Perfect for camping, this model can retain ice for up to five days, even in hot temperatures of 90 degrees Fahrenheit. The 50-quart wheeled cooler can hold a total of 84 standard-sized cans and has a telescoping handle and grips on the side for easy lifting and carrying.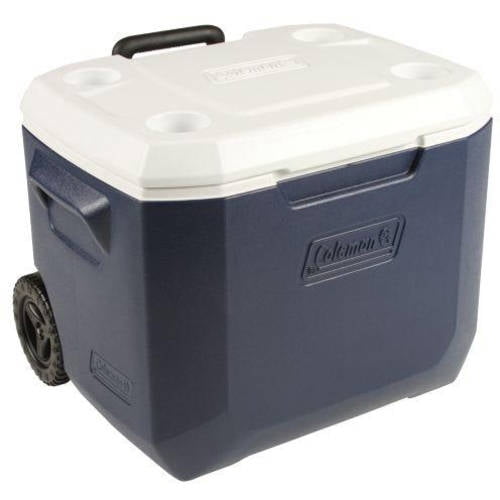 OtterBox Venture 65 Cooler
Price: $280
What we love: Although one of the more pricey coolers available, if you've owned an OtterBox phone case, you know how rugged this brand is. They bring the same magical mastery to this 65-quart cooler designed to hold up to two weeks of provisions and maintain ice up to 16 days. 
If you have gone camping before you know how dark it can get when the sun goes down and only the moon and stars are left to illuminate your beautifully set up campsite. Don't get lost in the dark, try some of these lanterns and string lights to help give your camp and tent the brightness it needs. 
Black Diamond Moji Lantern
Price: $20
Weight: 3 oz.
What we love: Simple, bright and compact, the Moji lantern features durable construction and a powerful 100 lumens of light for incredible visibility.
MPOWERD Luci String Lights
Price: $45
Weight: 11 lbs. 3 oz.
What we love: MPOWERD Luci Solar string lights + charger are perfect for brightening up your campsite. Solar and USB charging options make it easy to light up your surroundings wherever you are.
UCO Gear Sitka+
Price: $97
Weight: 2 lbs. 2 oz.
What we love: With up to a 500-lumen output, this lantern is more than enough to comfortably light up the biggest camp space. The ultimate camp workhorse with a frosted cover that makes for a pleasant light that doesn't hurt the eyes.
If you need help engaging the kids and creating some friendly competition when everyone is settled in for your stay, we find these games from PlayGoSports are easy to pack and assemble and are made from sturdy, quality material that is built to last. 
Here is a list of our Favorite Finds: These are not only great for camping trips but backyard fun as well.
GoSports Stars & Stripes GoSports Limbo
GoSports Connect 4 GoSports Slammo XL
GoSports Cornhole GoSports Foam Fire
GoSports Sack Race GoSports Football
GoFloats Fire Hydrant Sprinkler       
Here are some helpful Apps and Sites to make your navigation a littler easier:
RV Parky is an RV Park directory built by a full time RV'er with the help of the RV community to help fellow RV'ers on the road. Here you can find information, images, and reviews for the most complete collection of RV Parks and campgrounds in the United States and Canada. https://www.rvparky.com/
FreeRoam App – Campgrounds, Boondocking & RV Parks: Helpful tools and a community for campers and boondockers, all for free!
Find the best campsites to stay at:
– Filter by cell signal, weather, safety, crowdedness and more
– US Public Land (BLM, USFS) and cell coverage map overlays
– Find nearby dump sites, fresh water, groceries, propane, cell towers, etc…
If you are looking to squeeze in a weekend camping trip or a Labor Day getaway, look no further than the Irvine Moms Camping Guide. We hope this information can be useful to you and that you take our word on these wonderful products. Last but not least, to further simplify your camping experience and provide the safety your family needs to get out to a campsite, visit OC Parks to book a reservation at a campground near you. Their easy to use booking service will make it simple for you and your family to pin down a location that works best. Thanks for reading and we hope you have a wonderful time in the great outdoors!
Instagram
Facebook: