Wheather you just relocated to Irvine, CA or area Native resident and are looking to get some ideas for Day trips and learn a little bit on Orange County. You will soon add to your list of favorites in no time!
The Neighborhoods in Orange County are so different from each other. From Yorba Linda to San Juan Capistrano. If you had to give me a choice of where to live, It would be a hard one to make. Each neighborhood has so many special items that set them apart. If I find myself driving; I could easily be transfixed into the area. If you are looking to take a day and drive out  for exploring , I recommend  Lake Mission Viejo. The fact that you can walk around the entire Lake for a hearty workout is incredible to me while enjoying the beautiful homes and views of the Lake. You do have to belong to the Lake to use the Amenities. To walk around the Lake you do not have to be a member and have access to enjoy a walk within your Family or Pet. I recall during the 4th of July being able to sit and enjoy the fireworks. There is a Shopping Center that is home to a delicious Pizza Spot " Peppinos". You can sit outside in the Patio and watch the Sailboats go by.
History Fun Fact: Lake Mission Viejo is a 124-acre man-made recreational Lake located in the Northern portion of the planned community of Mission Viejo.  The maximum depth of the Lake exceeds 70 feet near the dam with an overall average depth of 30 feet. The Lake holds 3,800 acre feet of water (1.2 billion gallons).  The normal water level is 18 to 24 inches below the top of the bulkhead at an elevation of 700 feet above sea level. Approximately 700 feet of sand beach stretches across the shoreline at Playa del Norte (North Beach).  Additional private beaches have been incorporated for residents of developing Lakeside housing units.
The Lake is situated in the Oso Creek Valley, bordered on the South by the Alicia Parkway Dam; on the North by the O'Neill Road (now known as Olympiad Road) embankment; on the west by Marguerite parkway.  A 42 acre retention basin located just north of the Lake, designed to contain and prevent storm waters from entering the Lake, also serves as multi-purpose parkland and youth athletic park. A $1 million bypass storm drain system surrounding the Lake diverts hillside runoff water downstream into the Oso Creek.
(Mission Viejo Company, 1979)
Old Towne Orange is a great spot for the family to enjoy dining and stroll
The Homes in this area are some of my Favorites. You will find adorable Bungalow style homes and gorgeous Victorian Homes. This area is family friendly and offers many events. 
You can take the Metro into Orange and find yourself at a Ruby's inside the Train Depot.
History Fun Fact:
Repeatedly voted Orange County's favorite downtown, the streets of Old Towne Orange are lined with antique and collectibles dealers, specialty shops, art galleries, and restaurants. With its central Plaza Park, it has been the gathering place for Orange residents and visitors for more than a century. Old Towne Orange contains the largest Nationally Registered Historic District in California and its distinct look makes it a popular location for film and television production. Old Towne is also home to Chapman University, Orange City Hall, and the Orange Public Library & History Center, and is easily accessible from the Orange Metrolink Station or the 22, 57, 55, and 5 Freeways.
https://www.cityoforange.org/1007/Events
What makes living in OC so unique is the Landscape. You can easiy be in the Beach and in the same day you can head out inland and the scenery drastically changes.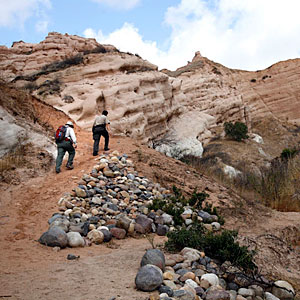 Featured above is Whiting Ranch in Lake Forest. If you are an outdoor lover , this Trail is for you.
Hike Spots:
Huntington Beach
This mostly flat trek through the wetlands is a tranquil nature walk masquerading as a hike. You'll get fresh air, pretty ocean views, and the opportunity to spot birds (more than 200 species have been identified there!) and other wildlife.
Irvine
One of the best parts of this local gem, tucked away in a residential area of Irvine, is that it's easily accessible.  After 2.5 miles of huffing and puffing your way through a combination of ascents and descents, you'll get a nice view of Irvine at the top.
Irvine
Located in the City of Irvine's vast Open Space Preserve, which is more than 5,200 acres, the relatively easy 2-mile Quail Hill Loop is a refreshing escape from strip-mall suburbia/a quail-free world.
Laguna Beach
For a picturesque 2-mile hike that deposits you at Moro Beach, head to Crystal Cove State Park. If you feel like exerting yourself more, you can prolong the hike by exploring the canyon and nearby ridges before heading down to the surf and sand.
Laguna Beach
For a hike that's challenging but won't leave you completely screwed the next day, try this 9-mile expedition through the undeveloped Laguna Coast Wilderness Park. The uphill climb is grueling, and you're exposed to the sun the entire time, but the worthwhile reward is a view of palm tree-dotted Laguna Beach.
Many People ask about the Weather when relocating:
Here are some of the Typical Ranges: Bear in mind, this is General information.  This year in June , we have seen chilly temps in the 60's that lasted with cloud cover most of the daytime.
Easy and Fun Roadtrips:
TEMECULA
Temecula may not be a typical choice, but memories are made by going off the beaten path and doing things the whole family can enjoy. So, yes, this is wine country, and there's a big casino resort, so the adults get to check some things off their list instead of planning an exclusively kid-centric day. Old Town Temecula brings everyone together with its historic buildings full of shops, restaurants and Pennypickle's Workshop for kids.
CATALINA ISLAND
It's the escape factor that makes Catalina Island so appealing:  You have to take a boat to get there, and when you arrive, it's nothing like the "mainland." The Catalina Island Co., which oversees and operates many of the activities on the island, is adding two attractions this summer at Descanso Canyon, and there are plenty of other favorites to enjoy as well.
Anza-Borrego Desert State Park
This park is interesting and beautiful. There are all levels of hikes – from 1/4 mile to 6 or more miles. The most popular hike seems to be the Palm Canyon hike, which is about a 3 mile round trip and takes 1 1/2 – 2 hours.
Half Moon Bay 
Half Moon Bay is world-renowned for its bounty of locally-grown plants and flowers, but we wouldn't expect rhododendrons to entertain the kids. Instead, take them to Worlds Rare Plants where they can marvel at hundreds of fly-chomping venus fly traps and fairy tale gardens. Marvel at the Carnivorous Plants
A few more nearby Towns that will be sure to help your Family Road Trip Adventures are:  ( bonus are they are driving distance too)
Las Vegas, NV
San Diego, CA
Yosemite, CA
Santa Barbara, CA
Phoenix, AZ
Mammoth, CA
Palm Springs, CA