Finding the perfect place to stay during your New York vacation or staycation is sometimes difficult. Loews Regency New York Hotel will definitely not make this difficult task anymore! You'll experience their special brand of relaxed sophistication when their bellman greets you with a friendly smile and their concierge calls you by name. This polished and family friendly Hotel is a perfect choice for your temporary home away from home!
Loews Regency New York Hotel has defined Park Avenue hospitality from the moment it opened in 1963. Built by Robert "Bob" and Lawrence "Larry" Tisch, Loews Regency New York Hotel is one of the New York City is most iconic hotels and only luxury hotel on Park Avenue north of 42nd Street.
Bob and Larry Tisch were born in Bensonhurst, Brooklyn, in the 1920's, the children of Russian immigrants. Their father, Al Tisch, worked as a clothing manufacturer in 1935 when he and his wife, Sayde, purchased two boys camps, Lincoln and Laurel, in the Kittatinny Mountains of Blairstown, New Jersey. Bob and Larry would help their parents set up camp every year, starting a family tradition of working together. When the Tisch's built a 32-guesthouse for campers, families and friends, Bob and Larry got their first taste of the hotel business. Al and Sayde Tisch imparted family values of hard work, respect and social responsibility to their sons, which remain the hallmark of Loews Hotels & Co today.
After earning degrees from New York University's School of Commerce and Wharton School of Business Larry purchased Laurel-in-the-Pines, a winter resort in Lakewood, New Jersey, and Bob joined him two years later after graduating from the University of Michigan. Both Al and Sayde instilled in their sons a sense of responsibility to the community, and in the off-season, Laurel-in-the-Pines became a camp for disadvantaged children.
Overview
Situated boldly on New York's Park Avenue, Loews Regency New York  Hotel is conveniently located in Manhattan on New York's famed Upper  East Side. Each of the stunning 379 guestrooms and suites seamlessly  blend iconic Art Deco design with modern sensibilities, craftily merging form  and function to complement nearly 60 years of service expertise. Guests  can experience the allure of Park Avenue at The Regency Bar & Grill or  Julien Farel Restore Salon & Spa. Loews Regency New York Hotel sets a  new standard in luxury and thoughtful design with a legacy of hospitality  expertly orchestrated and masterfully performed.
Location
Situated on the corner of Park Avenue and 61st Street, the hotel is  conveniently located for business and leisure travelers alike, and just steps  away from Central Park, the Central Park Zoo, Madison Avenue, and  Museum Mile. Other nearby attractions include Broadway Row, Rockefeller Center and more.
Guestrooms
 Each of the stunning guestrooms and suites have been thoughtfully  designed with the traveler's needs top of mind. Amenities include state-of the-art technology, including smart televisions with movies on demand,  complimentary high-speed Internet access, personalized temperature  control, built-in bedside and desk power outlets and electronic window  shades. Individually designed with their own unique charm and character,  the Terrace/Atrium Suites range from 950 square feet to 1,350 square  feet, and are perfect for family stays, extended stays and small events.  Three out of the four suites offer larger terraces, with the fourth offering its  own private atrium.
Signature Suites :
Loews Regency New York Hotel offers six designer-inspired Signature Suites, each boasting their own character and aesthetic for  a truly individual experience. Created by New York City's finest talents, the  suites debuted in November 2014, marking the culmination of the hotel's  transformation earlier that year. The suites range in size from 700 square  feet to 1,550 square feet, with views over Central Park, Park Avenue, 61st Street and the New York City skyline.
The Signature Suites are anchored by the Nate Berkus Apartment on the  21st floor. The spacious, 1,000 square foot suite is an oasis of style and  comfort with a formal living room, dining room, kitchen, bedroom and  balcony. A connecting second bedroom is also available.
Meyer Davis Studio Inc. designed the Uptown Bohemian Suite, inspired  by the eclectic aesthetic of SoHo and the clean lines of Chelsea; and the  Bespoke Suite, which draws its inspiration from New York City's vibrant  fashion industry. Rottet Studio designed The Grand Suites, two suites  inspired by cultural icon Marilyn Monroe. The Glamour Suite is an interpretation of what might have been Marilyn's Park Avenue pied-a-terre,  while the Pop Art Suite plays off her immortalization by pop artist Andy  Warhol. Haynes-Roberts, Inc. designed the Classic 1970s Apartment  with a classic, sophisticated a luxurious aesthetic, inspired by the  glamorous apartments of Milan from the 1970s.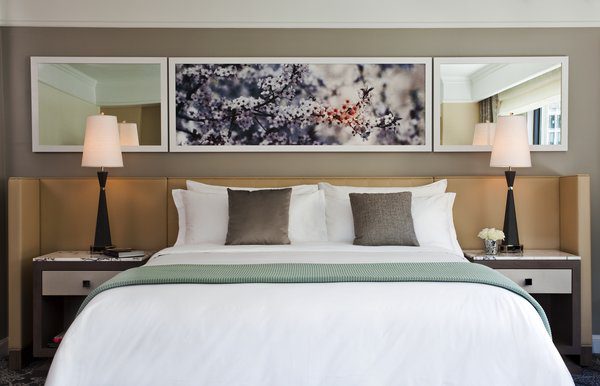 .
Save Time and Unwind
The Loews Regency New York hotel is perfectly located in New York, just steps away from Fifth Avenue, Central Park and numerous other notorious artistic attractions. But indeed with all the things to see and do right on our doorstep, you will look forward to returning to all the amenities and services that await you at the luxurious Loews Regency Hotel.
Family/Children Friendly Amenities

Assorted board games and toys

Crayons and coloring books

PlayStation for loan

Pet-Friendly Amenities

Gourmet room service menus for cats and dogs, prepared by our culinary teams

Creature comforts like specialized bedding, leashes, collars, litter boxes (and litter), litter scoopers, and more

Helpful amenities such as dog-walking route maps, pet placemats, water bowls, treats, doggie pick-up bags, and more

Special treats like rawhide bones, catnip, and scratch poles

Pet-walking and pet-sitting services

Other Useful Amenities

Audio/Visual: PSAV our in-house partner has the latest state-of-the-art audiovisual equipment for your every need.

 Babysitting: Please contact the Concierge for information and reservations.

 Concierge: Our knowledgeable concierges are happy to handle nearly any request. Concierge services are available 7am – 10pm daily.

 Dry cleaning: For dry cleaning or laundry, same-day service is available six days a week, including holidays. Express service gets your items back in just a few hours.

 Room service: Daily, 24 hours

 Parking: Overnight/24-hour parking is available for $90 per car including tax. Please note that SUVs and other oversize vehicles will incur an additional $15 charge. Hourly rates are also available. The entrance is on 61st Street between Park and Madison Avenues. Please note we currently have limited spaces available, please notify the hotel in advance to reserve your spot.

 Shoeshine: Simply call the Bell Desk for complimentary overnight service

 Security: Safety is always a top priority at Loews Regency New York Hotel. Officers are on duty 24 hours. For your safety and protection, always keep your door double-locked while occupying your room.

Park Avenue Privilege Program

State-of-the-art fitness center featuring two Peloton bikes

Complimentary coffee service to-go each morning at The Regency Bar from Flavor by Loews Hotels partner, For Five Coffee

Complimentary shoe shine

Complimentary wireless internet

Newspapers upon request

Turndown upon request
Hotel Dining
 Figuring out what to have for breakfast and dinner is an easy decision at Loews Regency New York Hotel. Their signature restaurant and dining concept,  The Regency Bar & Grill, serves breakfast, lunch, and dinner throughout  the week and brunch on weekends
The Regency Bar & Grill, which just brought on a new Executive Chef, Manjit Manohar, offers all American fare with  market-fresh ingredients in a contemporary setting.  The Regency Bar & Grill features cocktails and fare from Flavor by Loews Hotels partners Mah Ze Dahr  Bakery, For Five Coffee, and Ess-A-Bagel. The Regency Bar & Grill offers a robust kid's menu as part of the brand's Loews Loves Families program. Reservations are strongly recommended and can be made via  Resy or by phone.
In-Room Dining is another fantastic option so that you can enjoy your meal or snack in the comfort of your own room!
Hours:

Daily: Open 24 hours

Breakfast menu from 6am – 11am

All-day menu from 6am – 11pm

Overnight menu from 11pm – 6am
Special Events
Looking for a place to host your meeting, party, or even your wedding? Loews Regency New  York Hotel specializes in exclusive and intimate events.
Meetings+Events help people to communicate ideas, build team relationships, and more. Creating a perfect meeting or event is essential in maintaining a great atmosphere. Loews Regency will help you do just that.
Each meeting room occupies a prime location on the second floor, ranging in size and accommodating groups from 6 to 100.

 All second-floor meeting and event spaces feature oversized, sound-proof windows with natural light and inspiring views.

For dinner parties, Loews Regency offers their Terrace Suites, Signature Suites, or Private Dining Room.
Your New York City wedding fairytale awaits at the Loews Regency New York Hotel.  This is quintessential Manhattan hotel and an ideal location to celebrate the most special time in your life. With beautiful suites and spaces, top-notch local cuisine, on-site spa, and salon, and signature Loews service, their dedicated team is ready to make your New York City wedding experience one to remember.
Wedding Venues

The Regency Bar & Grill – Boasting tons of natural light, our largest room provides the ideal backdrop for an intimate ceremony, reception, rehearsal dinner, or post-wedding day brunch

Signature Suites –  No matter which suite suits you, guests will love the feeling of their own Pied-à-Terre on Park Avenue complete with spacious living areas, kitchenettes, and bedrooms.

Request your wedding proposal today!
Things To Do
Family fun is essential to incorporate into your vacation! There are many key attraction that you can visit with your family.
Central Park

Located just two blocks away from the hotel, Central Park has something for everyone. Whether you take advantage of all the paths and trails for walking, running, or biking or pack a picnic to enjoy on the Great Lawn or Sheep Meadow, this 843-acre park is filled with statues, playgrounds, fountains, and more.

Central Park Zoo

One of the key attractions of Central Park is the Central Park Zoo. Whether it's locking eyes with the snow leopards, or the sea lions, kids and adults alike will enjoy the selection of animals that live inside Manhattan's concrete jungle. And for the littlest ones, the adjacent children's zoo is a great place to feed and pet farm animals.

Yankee Stadium

Hop on the Lexington Avenue subway line, just two blocks away, for a quick ride to the Bronx to cheer on the New York Yankees. Whether your visit to cheer on the home team, or just enjoy a tour of the iconic building, guests will enjoy world-class food, views, and more.

Broadway

Bright lights in the big city await. Experience the magic of live theater for an evening show or daytime matinée. Whether it's a musical, drama or family performance, there is something for everyone to enjoy in Midtown.

More New York Attractions…

Empire State Building

Rockefeller Center

Sony Wonder Technology Lab

Statue of Liberty

St. Patrick's Cathedral

Wollman Rink in Central Park

Children's Museum of Manhattan

The Frick Collection

The Guggenheim Museum

The Jewish Museum of New York

The Metropolitan Museum of Art

Museum of Modern Art

The Museum of Natural History

Museum of the City of New York

The New York Historical Society

The Whitney Museum of American Art
Moms get pampered! Take a little bit of time from your trip to treat yourself!
Julien Farel Restore Salon & Spa

Loews Regency New York partnered with French hairdresser and entrepreneur, Julien and Suelyn Farel to create a 10,000-square-foot urban spa oasis for all your beauty and wellness needs. As a top-rated salon and spa catering to hotel guests, the local Upper East Side community, tri-state area, and international clientele, Julien Farel Restore Salon & Spa features a menu with over 100 services for hairstyling, hair coloring, spa treatments, massage treatments, and nail services in Manhattan.

Some services include hairstyling, hair cuts, hair color, nails, eyebrows, waxing, facials, makeup, massages, and medical spa treatments.

Book your appointment today!
Dads can enjoy their time too!
 Shoeshine

 Simply call the Bell Desk for complimentary overnight service.

Fitness Center

State-of-the-art fitness center featuring Peloton bikes.

The Regency Bar

Located on the corner of Park Avenue and 61st Street, The Regency Bar is an Upper East Side landmark. Here, you can enjoy specialty cocktails and fine wine specially selected to share the best New York has to offer, while a locally inspired menu is available for breakfast, lunch, and dinner.

Regency Bar menu.
Parents' date night! Enjoy a relaxing and romantic time with your significant others at the Loews Regency New York Hotel.
Broadway

Enjoy a date night by watching a very special show at one  the most popular places, Broadway!

Find your tickets here.

Lobby Lounge

Boasting a full wall-length Nina Helms sculpture, the Regency Lobby Lounge is a discreet gathering place, perfect for an impromptu meeting or a quiet corner to collect one's thoughts – so sit back, relax and take in the Park Avenue lifestyle

Piccola Cucina Uptown

The new Italian restaurant by Chef Philip Guardione on Park Avenue in Manhattan, New York.

Restaurant Guru 2022 Recommended Restaurant!
No matter what you do, when you get out of the taxi you will realize it is probably the only city that in reality looks better than on the postcards, New York!
Book your next Dream Stay!